Binding Type
Double-wire stitched: stapled – the most common and suitable for up to 48pp, possibly higher dependent on paper weight.
Wire-o-bound: spiral binding – suitable for short runs or for special effect.
Perfect bound: like a paperback book – 68pp minimum, variations are notch binding (stronger) and POS binding.
Items can also be padded like Post-Its, fixed with binding screws, etc. If you would like another binding type use the 'Other Comments' box to give details.
Bleed
Most print is first laid up on sheets and then cut to size. This ensures clean edges and avoids thin white strips at the sides. The extra overflow of the image is referred to as the 'bleed'.
The diagram below shows how a document should be set up to allow for this bleed. It also indicates where to arrange text to avoid it being clipped.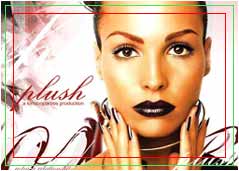 WHITE line
This is the document edge (size plus bleed e.g. A6: 111 x 154.5mm).
GREEN line
This is the finished print size (size after cropping e.g. A6: 105 x 148.5mm).
RED line
This is the document margin. Any text or important information should be placed within this area (approx. 6mm from document edge).
Print Both Sides (Folders)
Printing both sides refers to the whole flattened sheet. If you imagine your folder opened out and require any part of the inside to be printed then select 'Yes'.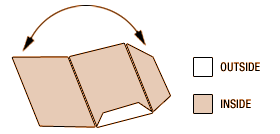 Business Card Slot (Folders)
If you want to be able to attach your business card to your folder select 'Yes'. The slots are usually put on the bottom flap.
Creasing
If you wish to be able to fold your menu or flyer then state here how many creases you require. Be sure to take into account the thickness of the paper/card – obviously 350gsm card will not fold on itself as many times as 130gsm.
Diecut or Cutting
If you would like any part of your print to be cut to a certain shape you will need to have a diecut made. This is a custom made cutter (almost like a pastry cutter) which cuts the print to the desired shape.
It is not just custom shapes that require a diecut: any shape of print that is not a rectangle or square will require one (even for small curved edges).
Finished Size
These dimensions are those of the finished printed item. For example: if you are wanting a number of A5 size booklets then the finished size is A5 (148.5 x 210 mm). If the size of your job does not come under a standard size then select 'Custom Size' and use the boxes below it to enter the dimensions.
For folders, choose the size according to the material you wish to keep in them (if any).
A4 inserts will fit into an 'oversize A4' folder and A5 inserts will fit into an 'oversize A5' folder.
Gusset (Folders)
If you intend to put more than 5 sheets inside your folder it is advisable to put a gusset on the folder. The diagram below shows how a gusset adds more space to accommodate more inserts.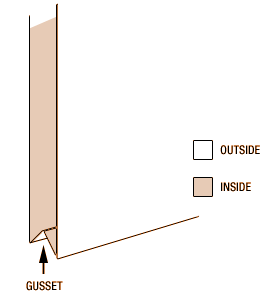 Lamination & Encapsulation
A lamination is a thin plastic coating that protects the print surface. This is wipe-clean but not completely waterproof (see encapsulation below)
You can have either Matt or Gloss (Matt is a dull, smooth looking finish, Gloss is shiny).
Encapsulation is similar to lamination but the edges are sealed as well as the surface. This is recommended for outputs that require to be weatherproof or waterproof.
Leaves to the Left/Right
Here you choose how many leaves open off the main part of the folder. For example, you could have the folder open in a conventional way with one leaf to the left, or it could open in a gatefold way with a leaf to the left and right (see diagram).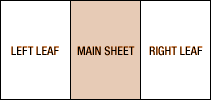 Material Colour (Stickers and Custom Items)
Vinyl stickers are only available in a limited range of colours. If you state your preferred colour on the box (if white state 'white') and we will find the closest match. Note that the actual print is available in up to 3 colours.
Materials – Stickers
Adhesive Label: supplied on gloss paper with a permanent adhesive. These stickers are not waterproof and are therefore more suitable for indoor use.
Vinyl: printed on waterproof vinyl – ideal for outside use.
Permanent Window: printed on vinyl using UV resistant inks to ensure long term stability. Attached using permanent adhesive.
Self Cling Window: as above only vinyl has a self-cling adhesive which enables the sticker to be removed if required.
Materials – Plastic Cards
Card Core: rigid plastic laminate to both sides of a card core.
Foil Blocked: line art only in 1,2, or more Pantone colours on 700 micron* rigid plastic
ISO Cards: produced to ISO 7610, a 750 micron* rigid white PVC card printed litho process plus flood varnish gloss UV both sides.
*1000 microns = 1mm
Number of Pages (pp)
Booklets and brochures can only be made up of pages that are a multiple of 4. This is because of the way they are constructed: if you imagine a sheet of A4 paper folded in half to make an A5 booklet, you are left with 4 printed pages (pp).
In order to add more pages you need to print and fold another sheet, therefore you add another 4 pages each time.
Be sure to include the cover when you calculate the number of pages.
Full colour, 2 colour and 1 colour pages:
If your booklet is made up of a mixture of 1 colour and full colour artwork then you can separate the job into a 1 colour and full colour run. Note that the pages are still multiples of 4 as they are printed on different sheets.
This section applies to the inner pages only; use the cover options to choose the colour format for your cover pages.
Reference
For us to keep track of orders and quotes we need them to have a unique reference. When placing an order or requesting a quote you must make sure you enter a reference for your request.
Note that when a job is processed you will be given a job number on your invoice which you will allow you to track your job if necessary.
Print Resolution
In order to ensure a sharp printed image the source file needs to be supplied in a high enough resolution. 300dpi (dots per inch) is the resolution used for most print as it gives a good quality image whilst not causing huge filesizes.
A common mistake made when producing designs for print is to use a source file* as a starting point. If the source file is the incorrect resolution (for instance 72dpi in the case of images downloaded from the internet) then the design is going to be the wrong resolution from the start.
Always start a design from a blank file.
You can download templates from this guide to give you a starting point. Go to templates.
*an image gathered from a scan or downloaded from the internet.
Special Inks & Finishes
If you would like particular ink that not a standard colour; a metallic ink (gold, silver etc), or a fluorescent ink, then select which one and include further details in the 'Other Comments' box.
Special finishes can include spot varnishes, signature strips, barcodes and embossed numbers or text.
If a special ink or finish is not defined in a drop-down box then use the 'Other Comments' box to give details.